Equity Crowdfunding Upfront Costs : No Laughing Matter
Adoption of Equity Crowdfunding for ordinary investors may come sooner than we think. First in the US and not far behind, Quebec and Ontario. [Note: Saskatchewan has gone forward with a smaller-scale model as allowed by law

(150,000$ raises and under), but for the purpose of this post and considering investment statistics, we assume that companies will aim higher – much higher, and this has yet to be legalized]. We thought the time was well chosen to outline the costs a Canadian company may incur given the possible regulatory framework that will come into force.
I sat down with Paul Niederer, CEO of ASSOB, the largest equity crowdfunding platform, to compare notes. We may be more conservative than our Australian counterparts and demonstrate a lower tolerance to risk. That is why we are assuming that the bar will be set higher for Canadian companies. For a minimum investment of 500,000$ (USD), to prove their credentials, here's what companies may be expected to pay upfront prior to launching an equity crowdfunding campaign:
COMPLIANCE FEES $3,000-8,000
1-Legal writing of offering document compliant with legislation
2-Investment summary
BUSINESS/MARKETING SERVICE FEES $4,000-8,000
3-Value proposal, storytelling, business case, video
4-Community building, SEO, content strategy
PORTAL FEES $40,000 – 50,000
5-Due diligence on company and executive team $1,000
6-Offer document review: $3,000$-4,000 (Note: Crowdcube in the UK charges $3,000 or 1,800 pounds that are subsequently deducted from capital raise)
7-Portal success fee: 2-3% of min. proceeds
8-Broker success fee: 5-6% of min. proceeds (a broker is necessary for larger amounts)
Note: Australia's ASSOB charges 8% of which 2.5% goes to portal and 5.5% to broker.
PROFESSIONAL FEES $5,000$-7,000
9-Certified Public Accountant costs (higher for raises above $500,000)
10- Financial Planning
This article was initially published on NCFA
All in all, companies may be required to put in somewhere between 12 and 15% of the money raised. That's 52,000$ to 75,000$ to raise $500,000. The SEC estimates are even more pessimistic, as indicated below.
Add to that, ongoing fees: Marketing/Social Media/PR/Advertising which represent roughly 5-10% of the minimum proceeds, quarterly reporting costs and legal defense costs.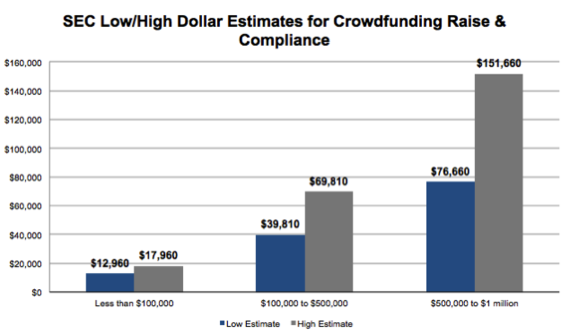 Credit: Crowdfunding Capital Advisors – Venturebeat
Suffice it to say, under the proposed framework, this model is not a solution to all ills. Upfront costs are and will be a barrier to entry for early-stage start-ups.